Schedule field team reporting tasks
Manage field teams with simple task scheduling.
Field team management is a crucial part of successful customer service and good sales numbers. Field teams using mobile devices to share field data are in a great position to achieve this. A continuous data flow between office and field personnel offers a platform for informed decisions. For managers to be able to plan ahead and manage data collection properly we created Schedule.
Schedule makes sure your field teams know their daily tasks. It allows managers to set dates for users when to check on certain data points, such as inspection sites. With a very simple calendar view, an admin user can click a date, choose a user and a data point and the user will see the chosen data point listed in the mobile app on that day. The app will automatically check if new data points are allocated for the user so even during the current day new data points can appear on the mobile apps "Today" list.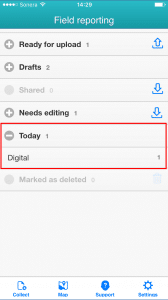 If your teams are inspecting industrial products or visiting point of sales this is a simple way to schedule their daily tasks. For managers it is easy to allocate the work with a drag and drop interface and monitor the updated data on the Poimapper web portal. Schedule was built to make data collection planning easier and field teams management more successful.
To continue your data collection or to register for a new account follow this link. https://portal.poimapper.com/login.jsp?lang=en
Schedule is a Poimapper PRO account feature. To trial the PRO account, please upgrade your free account or sign up for a PRO account free trial. If you have any questions please contact support (@)poimapper.com.
Schedule field team
You can read more about like this, click here!